COVID-19 UPDATE
Below are the guidelines that must be followed as mandated by the State of Washington.
Foursomes are now allowed.
Reservations may be made over the phone, please call the golf shop at 360-385-0704 to book your tee time.
Payments can be made upon arrival by also calling the golf shop at 360-385-0704.  All payments will be by credit or debit card, sorry no cash sales at this time.
Golf carts now have no restrictions, 2 riders are allowed from separate households.
Practice range is open with range stalls spaced for appropriate distancing.  Range baskets will be sanitized after each use.
The golf course has removed all bunker rakes, on course ball washers, practice green flags, and sand seed buckets by tees for your safety.
 Flags and cups have also been modified to lessen touch points.  Flagstick should remain in the hole at all times.
We are now allowing limited entry to the clubhouse as long as you are wearing a mask.
Merchandise is available for purchase in the golf shop, masks required.
Please arrive no sooner than 30 minutes prior to your tee time.  This will assist in reduced number of players around the pro-shop and those using the practice facilities.  The putting green, practice range, and chipping area will be for tee time players only from 7:30am-4:00pm.  Guests without tee times may use the practice facilities after 4:00pm.
Marshaling the course will take place on a consistent basis to ensure social distancing is in effect.  Players are encouraged to leave the course immediately after play to reduce social gatherings.
We will continue to make the necessary strides to impact confidence in the general public that our primary emphasis is on health and safety for our patrons, staff members, and our community.
We appreciate all our guests and employees being proactive about their health and public safety.  We highly encourage everyone to take common sense health precautions such as frequent hand washing and use of alcohol based sanitizer.  If you are ill or have any Covid-19 symptoms, please remain at home.
We are excited to have golfers back as the golf course is in great shape, we just ask for your patience as we navigate these new guidelines.
Hope to see you soon!
Welcome to Discovery Bay Golf Club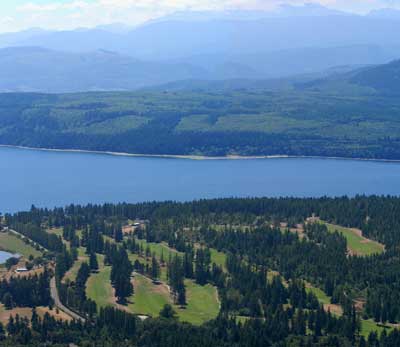 Voted "Best Golf Course" 2010, 2013, 2017, 2018 & 2019 on the Olympic Peninsula!
Discovery Bay Golf Course (formerly called Chevy Chase) is a 96 year old golf course with a rich history and simple rural charm.
Value and Beauty
Discovery Bay Golf Course, featuring 18 holes on the shores of Discovery Bay, is located five miles south of the historic Victorian port city of Port Townsend.  Golfers will delight in unspoiled panoramic views of the Olympic and Cascade mountains and the pristine waters of Discovery Bay. The history and beauty of this unique course can be enjoyed at the best prices for golf on the Olympic Peninsula. Current rate schedule is on the rates page.
Our practice areas include the ONLY COVERED driving range on the Olympic Peninsula and putting area for your use. Not a Golfer? Discovery Bay Golf Club still has amenities for you.  We are set up to handle your events, whether a large tournament or small private one. Reservations can be made using our convenient contact page or by calling the course at 360.385.0704.
Dog Friendly!
Discovery Bay Golf Club welcomes responsible dog owners. Playing a round of golf with your faithful companion could be the ticket to the score you're vying for. We are not making any promises, but bring your dog along and give it a try.
On Going Weekly Games
Mon, Wed, Fri:  Men's Club – 9:00
Thursday:  Women's 18 Holers – 9:00
Tuesday: Women's 9 Holers – 9:30